If you're looking for a more sustainable type of power, you may have considered solar. Solar power uses energy from the sun, or thermal energy, to create electricity. This is convenient for travel and saves costs. With people becoming more knowledgeable about their impact on the world, solar power has become more popular. 
You may consider using a solar generator. One of our favorites is the Flashfish portable power station. You can pair this with solar panels. We will provide tips for pairing solar panels with your Flashfish solar generator. 
Using Solar Panels with a Solar Generator
This article will dive into using your Flashfish portable solar generator with solar panels. Using a solar generator with solar power will have banked power. This will come in handy if there is an outage or poor weather. 
We will discuss some pertinent information. Before giving tips for pairing these two together, we will discuss what a solar generator is and the benefits of the Flashfish power station. 
What Is a Solar Generator?
A solar generator uses the energy from the sun. It then stores that energy internally. You can use this energy later on if you need it. Generators are excellent for camping, off-grid use, and in case of a power outage. You may be familiar with a traditional generator. These typically require fuel, such as diesel, for energy. A solar generator works solely on thermal energy. 
Solar generators can come in many different sizes. Large generators can power a house in the event of an outage. However, medium generators can provide energy to an RV or camper. This is great for people who like to camp off-grid. Small generators can help provide power to devices and small appliances. 
It's important to find a generator that stores enough power for what you need. 
What Is the Flashfish Solar Generator?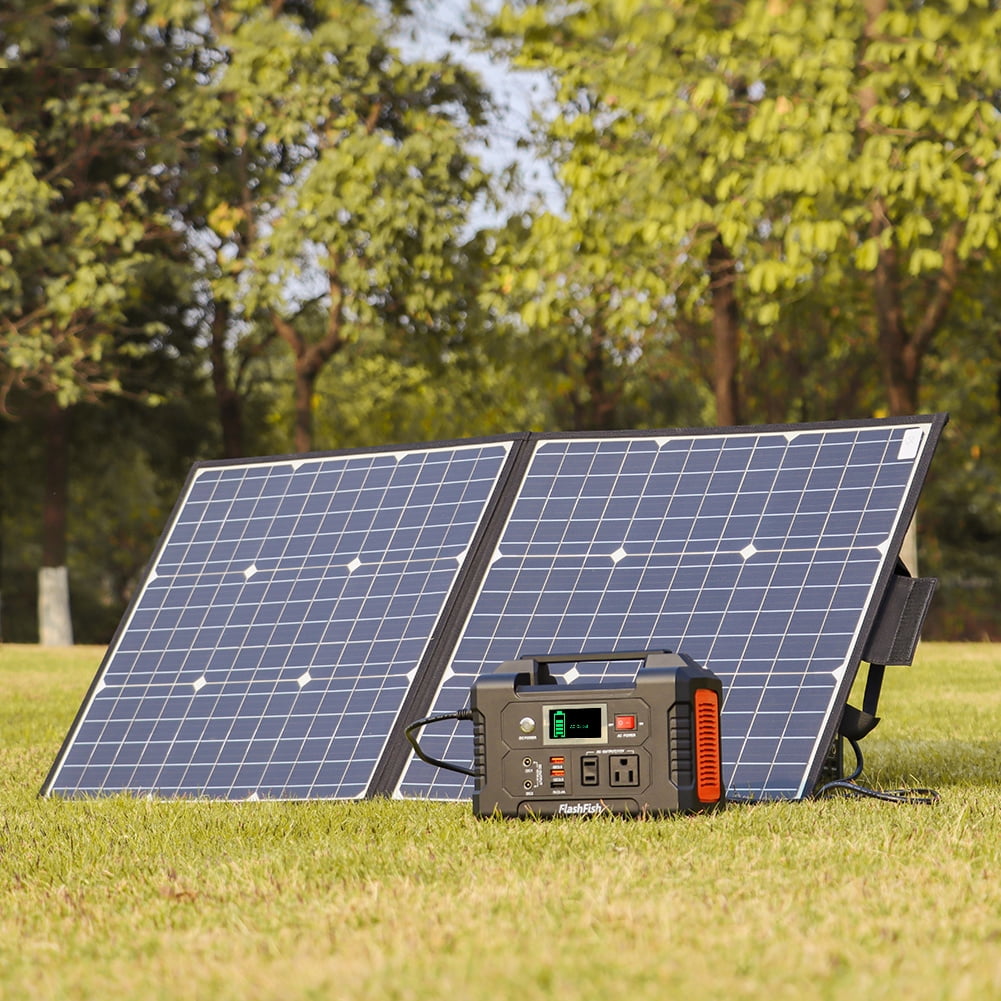 One of the best solar generators is the Flashfish 200W portable power station. This generator provides quite a lot of power in one small, portable generator. It is extremely easy to use and quite light to carry around. 
Some of the most notable benefits of this solar generator are:
Several Outlets
There's no doubt that you may need several outlets at once. This is especially true for those with several devices or appliances requiring charging. The Flashfish solar generator has many different outlets for you to plug into. You can charge your mobile device, laptop, and camera all at the same time. This will allow you to quickly recharge your devices before enjoying a hike or adventure. 
With the Flashfish power station, there is:
110 AC output

2 DC outputs 

2 QC 3.0 quick charge USB ports 

1 USB port
High Performance
Power and energy are not something you want to fool around with. You want a generator that you can rely on. This is one reason that the Flashfish solar generator is so highly rated. It is exceptionally high-performance and easy to use. 
The entire unit is only 4.07 pounds. This makes it extremely easy to carry around. This is especially useful if you are camping or hiking to an offroad location. The Flashfish generator is compact and portable. You can put it in your backpack for hands-free carrying. There is also a soft-hold handle that is easy to grip. 
Triple Charging Modes
Flashfish provides users with three different ways to charge their generators. This adds to its efficiency and convenience. With the Flashfish portable solar generator, you can charge it with the 15-25 volt solar panel, AC wall adapter, or car charger. Regardless of your charging method, the battery will not be affected. 
This will allow you to choose a charging method that works best for you. If you are amidst a gloomy day, you can choose to charge the generator with your car or wall power. You won't be limited to functioning solely off of solar energy. 
Protection Features
There are always risks when dealing with energy, and the Flashfish generator protects you against most of those risks. You will likely plug in some expensive devices to your generators, such as a laptop or smartphone. You want to know that these devices will be protected against overcurrent, overvoltage, and overheating. 
The Flashfish solar generator completely protects you and your devices. It has well-rounded protection against over-temperature, overcurrent, and overvoltage concerns. This will minimize a fire hazard and keep your devices working as they should. 
LCD Display
Don't go into using your solar generator blind! You should have complete knowledge of the remaining power, AC output, and DC output status. The Flashfish is equipped with a multifunction LCD display. Not only is this display chic and user-friendly, but it gives you all of the information you need. 
Simply check in as you use your Flashfish to see how much charge you have left in your generator. This will let you plan when you need to recharge the battery. This convenient feature makes sure you're never left without power. 
Tips for Using Solar Panels With Your Solar Generator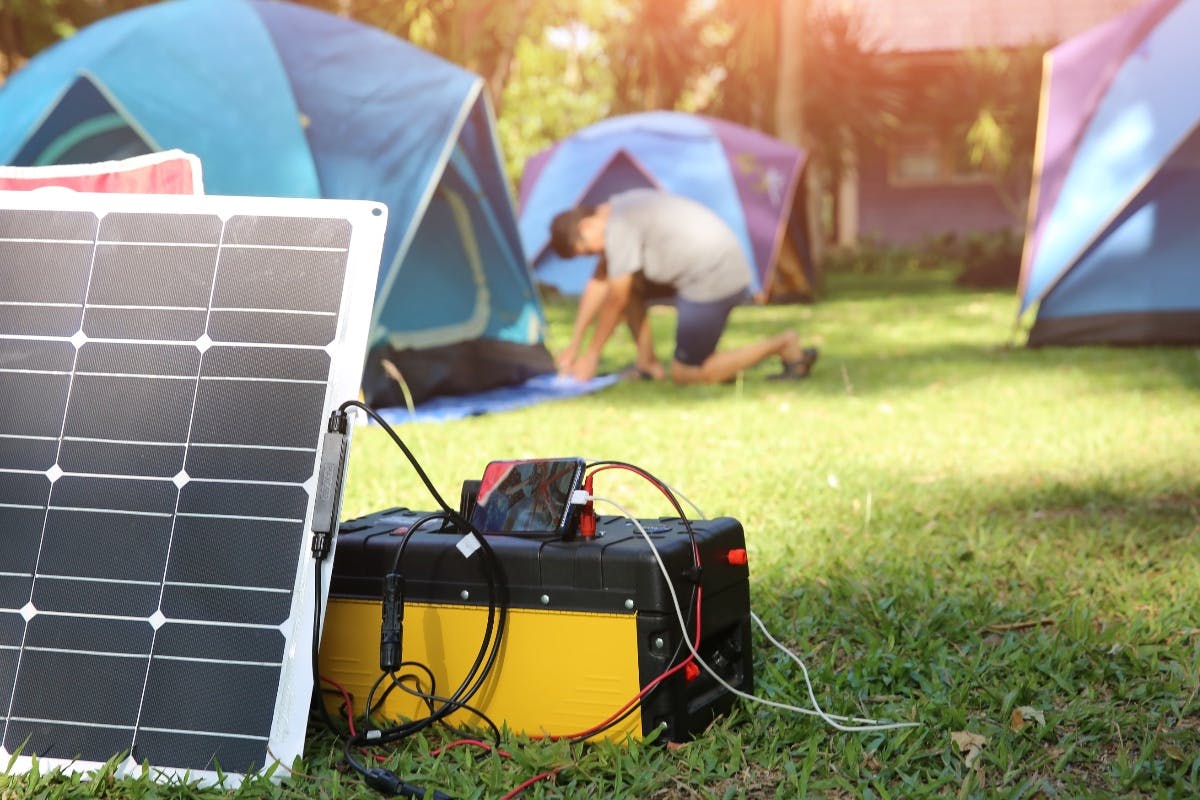 Now that you know why you need the Flashfish 200W portable power station, we will provide tips for using it. These tips will help keep your generator long-lasting. 
1. Read Manual
Solar generators and solar panels are not one-size-fits-all. These products can be complicated and made very differently by each manufacturer. This is why it's essential to read the manual. When setting up your generator to your panels, you'll want to ensure everything is connected correctly. 
Take the time to read the manuals of both products. Carefully set them up based on the instructions. Take your time and be diligent. Follow any additional rules given by the paperwork sent with your purchases. The time you take to use these products properly will ensure you avoid any malfunctions or issues down the road. 
2. Disconnect When Possible
As soon as you can, unplug your devices from the generator. Don't make the mistake of charging devices when they are full. By leaving your devices connected for too long, you will waste energy. This means that charging your phone overnight probably isn't the best idea. Instead, charge it while you can keep an eye on it. Don't use it as it's plugged in. Finally, unplug it as soon as it's complete. 
3. Keep Solar Generator from Dust
Solar generators are often finicky products. They rely on many comprehensive circuits to run properly. Small particles, such as dust and dirt, can damage these circuits. Over time, debris can cause a malfunction in your generator. This can cause your solar generator to run poorly or entirely break down. 
To avoid these issues:
Keep your generator away from dust.

Store it in airtight bins, such as a tote.

Keep it on a blanket or table when it is outside. If any dust enters the air vents, clean thoroughly.
You can also cover the generator in leather. This will help protect it. These minor considerations will make a big difference in the lifespan of your generator. 
4. Keep Solar Panels Clean
Your solar generator isn't the only thing that dust and debris can harm! It's also important to periodically clean your solar panels. If you're camping, it can be expected for dust and dirt to fall onto the generator. Over time, this can cause the generator to generate power more slowly. This can be inconvenient for your usage. 
To keep solar panels clean, simply wipe them down with a damp cloth. This will keep your panels working at maximum efficiency. 
5. Keep Panels in Sunlight
Shade is a genuine concern no matter where you are! If you're camping, you may find that trees can block sunlight. Buildings, cars, and other structures can create shade in the city. Shade can actually slow down how quickly your solar panels absorb sunlight. This will reduce the power of the generator. 
To ensure it works at maximum capacity, have the solar panels in direct sunlight. Avoid shade of any kind. If you have the direct sun beating down on the panels, you're more likely to have a better output. This will ensure your generator charges more quickly and that you get the most battery power out of it.
6. Be Mindful of Charging Devices
It can be tempting to plug in all of your devices at once (especially when they are all dead). You may find yourself wanting to plug in your phone, laptop, and camera all at once. However, this can have some repercussions. It's actually more beneficial to charge one device at a time. This will help protect your solar generator and improve its lifespan. Charge your most important device first. When that's complete, move on to your other devices. 
Conclusion
A solar generator can help provide you power while you're enjoying some off-grid activities, such as camping. The Flashfish portable power station is an excellent product for generating power when you need it. By following these six tips and being mindful of usage, you can maintain the lifespan of your solar generator and have long-lasting power for your travels.