You need a generator if you're looking for power on demand. A generator provides power for you to have electricity wherever you are. Large generators can even power an entire home if there is a power outage! 
If you are an avid camper or off-grid adventurer, you may find that you need a portable inverter generator. Portable generators have several benefits. This article will outline what to look for when buying a portable generator. After that, we will share some of our top picks on the market. 
Portable Generator Guide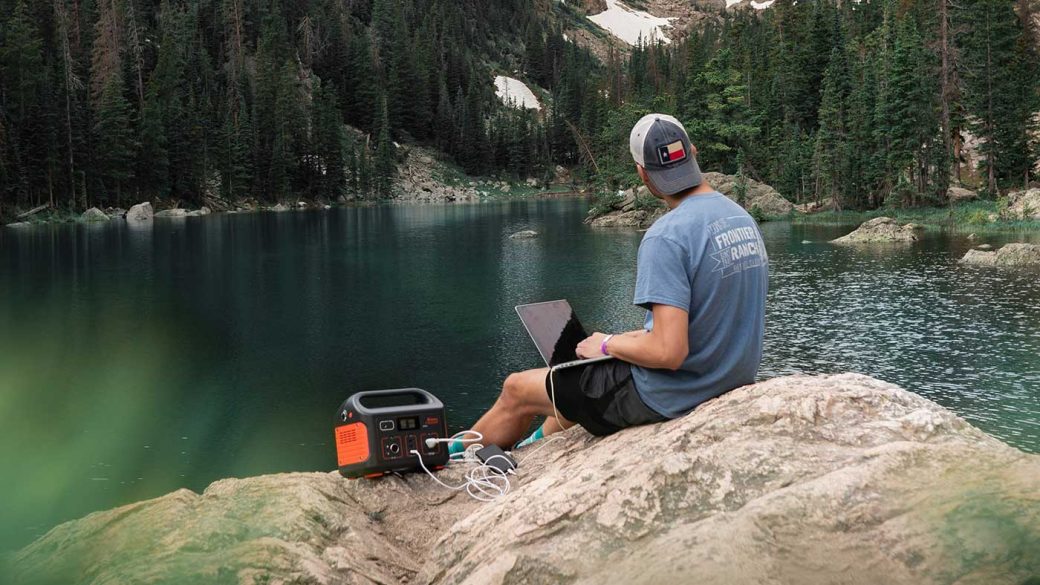 A portable generator is a more compact generator that is easy to transport. Some portable generators are so compact that you can even put them in your backpack. They can be as light as five pounds! Generators are used to power mobile devices, laptops, small appliances, and more. 
Having access to electricity will make your life significantly easier. There's also a safety component to having electricity. If you're enjoying a camping trip or backcountry adventure, it's important that you can communicate with friends and family. With a portable generator, you won't have to worry about your phone dying. You can even plug in a kettle to boil water to make it safe for drinking! 
Things to Look for
Now that you know what a portable generator is, we'll discuss what to look for. Knowing what to look for will help you as you make your investment. Different generators will have different features and benefits. Make sure you find one that meets your needs. 
1. Outlets 
Did you know there are several different types of outlets? Some types of outlets you may find on a generator include:
15A 120 volts: basic outlets for regular lamps, etc. 

USB: often used for devices, such as smartphones and tablets 

20A 125 volts: accommodates larger gadgets 

20A 250 volts: accommodates large appliances, such as air conditioners and stoves
Knowing what you use your generator for is important. If you want to use your generator for charging your phone, you'll need different outlets than using it for a microwave. If your outlets aren't compatible with your needs, then it renders useless. Knowing what frequent devices and products you'll be charging or plugging in are essential. 
2. Power Output
Generators come with different power outputs. For example, charging your phone will need significantly less power than plugging in a small stove or mini fridge. Knowing the size of the generator you'll need is essential. 
When deciding what you'll be plugging in, consider the running watts and startup watts required. Often appliances can run on significantly less power than they take to start up. For example, a fridge may require 2100 watts of power to start up. However, it may only need 700 watts once it's effectively running. Regardless, your generator will have enough wattage power to start up. 
3. Fuel Type
There are several ways to fuel a generator. The most common fuel type is gasoline. Gas generators are easy to use, and gas is relatively quite cheap and easy to access. 
Another type of generator is a diesel generator. Diesel is often harder to track down than gasoline. These types of generators are often pricier upfront. However, they offer better fuel efficiency. You may also be able to find a propane generator. 
One newer model of generator is a solar-powered generator. These types of generators run off of thermal energy, or heat from the sun. These have no emissions and don't require costly fuel. Many solar generators often have the option to charge the battery by plugging it into the wall or a car. The downfall of solar generators is that they are expensive and charge slowly. Furthermore, they often have a lower wattage than gasoline or diesel generators. 
4. Size of Fuel Tank
If you're opting for a generator that requires gasoline or diesel, you should know the fuel tank size. A larger fuel tank will allow the system to run longer. A larger fuel tank is often more convenient. Most generators will run for seven to nine hours on gasoline. 
Knowing how long you want your generator to last and how large the tank is is important. 
5. Noise Level
There's no avoiding it: generators can be noisy. Many small generators, such as the AIMS inverter generator, can be quieter. Larger generators can be pretty loud. Loud buzzing can be a nuisance when trying to sleep while you camp. This can be annoying at best. 
It's important to note that most generators over 4000 watts will be noisy. Diesel generators are louder than gasoline generators. Try out the generators and try to purchase models that run quieter. Your neighbors and guests will appreciate this. 
6. Carbon Monoxide Detection
Safety is one of the most important considerations with your generator! Carbon monoxide is a deadly (but invisible and odorless) gas. Most people won't detect carbon monoxide until they have already been poisoned. Many generators now come with a carbon monoxide protection switch. This will automatically shut down the unit if the levels get too high. 
This will minimize the chance of illness and death. It's a relatively simple feature that will make a huge difference to those who have experienced a carbon monoxide leak. 
7. Weight
The weight of a generator can be a significant consideration. Many generators can be heavy. This can make it challenging to travel with or transport. A portable model is very important if you want to do backcountry camping. Look for a generator around the five-pound mark. These small generators can even be carried in a backpack. 
8. Electronic Fuel Injection
One common (and annoying) malfunction with generators is clogged carburetors. These can be difficult to fix and can quickly ruin a trip. You don't need a carburetor with electronic fuel injection (EFI). This means you'll never have to deal with a clogged unit! Generators with EFIs are also easier to start in cool weather. This will make the maintenance of your machine much more manageable. 
Best Portable Generators 
Now that we've discussed what to look for when buying a generator, we can share some of the best portable inverter generators. This list will provide some top-tier products on the market. 
This solar generator by Flashfish is the perfect generator for the on-the-go. It has an incredible capacity of 520Wh and can power 11 devices at once. With the P60, you will get: 
2 110 AC outputs

4 DC outputs

1 car port

3 USB-A ports

1 USB-C quick-charge ports
You can power kitchen appliances, devices, and tools. With a 560W wattage, there is plenty of power to go around. If you are experiencing a gloomy day, you can charge this generator through the AC wall adapter or car charger.
This propane generator is an impressive 1000 watts and is both EPA and CARB approved. It's lightweight and functions solely on propane. It has a 60-hour run time and a 20-pound tank. It is thirty pounds, so it travels easily with a vehicle or camper. It is so strong that it can power a refrigerator! 
If you're looking for a good propane generator, this is it. The ALP generator has multiple charging stations, and a bright emergency LED light. A low-oil auto shut-off will keep the unit safe. 
 
This incredible generator is 3000 watts and can power a fridge, air conditioner, or lawn mower. You can easily hook it up to other Bluetti generators to expand the power supply. There are five ways to charge: wall outlet, solar panels, car, generator, and lead-acid battery. This makes this generator extremely convenient no matter where you are.
You can easily control this generator with your smartphone. There is even a wireless charging pad!
The grey and orange color scheme of this generator is perfect for the outdoorsy types. The Jackery generator is a powerful portable generator. It has two USB-C, two USC, one DC car port, and three pure sine wave AC outlets. It is only 22 pounds, which is incredible considering its 1000-watt wattage. 
This 800-watt generator by AIMS is CARB and EPA-compliant. It is known for being extremely quiet and lightweight. It is extremely easy to transport. The AIMS inverter generator includes LED indicators, 12V DC sockets, and dual USB outlets. This generator will run for six hours and has a three-year warranty! 
To get power, just simply fill the AIMS generator with gasoline. At less than $500, this generator offers incredible power-providing opportunities on a budget. 
Conclusion
Energy is power (literally). Having access to power is essential for everyday life. Whether you want to go camping, hiking, or just have access to electricity on the go, you need a portable inverter generator. Generators can come in all different shapes, sizes, fuel types, and designs. Finding a smaller generator that is easy to transport will be perfect for your adventures. Whether you want a solar-powered or gasoline-powered generator, this list provides some of the best options on the market.