Solar power is an eco-friendly way to generate electricity. It could be your only option in remote locations or when camping. And even if you secure electricity, it's wise to have an alternative energy source for a household.
The good news is solar panels have never been this affordable. But don't rush when choosing the unit. Whether you need a standard or portable solar panel, consider these factors before deciding!
How to Choose a Solar Panel
At first glance, a solar panel might remind you of a window. These flat constructions collect sunlight. They are capable of using a photovoltaic effect to convert that energy into electricity. It's why we also call them PV panels.
Here's why you should consider solar energy:
Reduced carbon footprint. Apart from being eco-friendly, many governments offer incentives for using solar energy.

Smart long-term investment. You'll save money on electricity bills with solar energy.

Diverse applications. You can install a solar panel on your home. It's possible to use it on the go, ensuring versatile applications.

Effortless maintenance. Solar panels rarely take up much space, and they only require minimal care.
If you set your mind on getting a solar panel, here's how to choose a suitable unit!
1. What Is the Difference Between a Fixed and Portable Solar Panel?
The first step is covering the basics. During the early years of solar technology, you could only place fixed rigid panels. This harvested sunlight, but you didn't have the option of moving them. Today, you'll see them in households and places that require large energy collection.
Portable solar panels have become a favorite user option in recent years. They are light and compact, which is a critical advantage. It's easy to move portable panels, and they don't take much storage room. While the limited size also restricts the energy they can produce, it's enough for most outdoor needs. That includes camping, touring with an RV, and even off-grid living.
2. Consider Different Solar Panel Types
Solar panel technology has gone a long way in the last few decades. Today, you can pick between monocrystalline and polycrystalline, but also consider thin film panels. Here's a brief overview of each option!
Monocrystalline Solar Panels
If you want maximum efficiency in turning solar energy into electricity, this is the right option. Manufacturers use a single piece of crystal silicon to design a cell. The panel has a homogeneous structure to ensure electrons can pass through effortlessly.
Outdoor use is the primary purpose of these products. A monocrystalline silicon solar panel is ideal for camping, RVs, etc. Apart from excellent efficiency, it takes little space. And the silicon quality can extend the panel's lifespan. 
It's worth noting that monocrystalline solar systems are extremely efficient in high temperatures. The only downside is their quality also comes with a suitable price.
Polycrystalline Solar Panels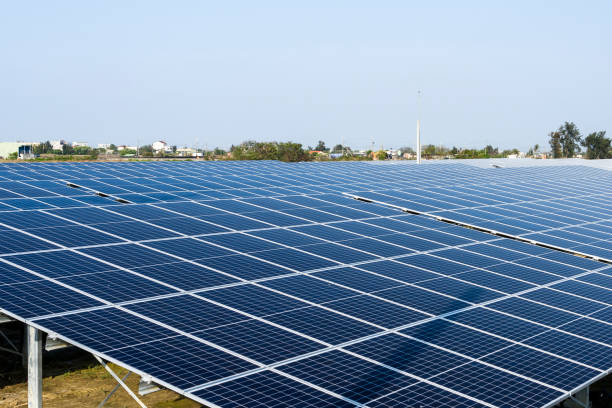 These have a recognizable dark blue shade. Polycrystalline panels have different production requirements. Manufacturers use Bridgman or Czochralski processes, with the latter being more efficient and expensive.
The panel has multiple silicon pieces, indicating the structure is non-homogeneous. The result is less efficient than in monocrystalline units, especially when compared to the taken space. These panels also have lower temperature resistance.
Thin Film Panels
There aren't any silicon wafers in these panels. Instead, the manufacturers use a ceramic substrate and apply a semiconductor to it. These film modules contain thin layers of particular metals.
These panels are easy to make, especially if the creator chooses mass production. They have excellent heat and impact resistance. Thin film panels even look attractive. But as time passes, they'll wear off quicker and show signs of degradation.
3. What's the Performance of the Desired Solar Panel?
The good news is most solar panels will deliver the expected energy amount. While the performance also depends on the size, you'll also appreciate maximum efficiency.
It varies on the unit, but the efficiency usually goes from 15% to 22%. The value below this might not prove to be a valuable investment. Anything in this range or higher will generate electricity seamlessly and cover most needs.
4. How Big Is the Solar Panel?
The size should be proportionate to the efficiency and capability of generating power. A larger solar panel should be capable of delivering more electricity. However, these are more difficult to move. You often find them in fixed setups.
A portable solar panel is smaller and lighter. However, it can still generate a decent amount of power. Consider the energy per square meter rating and pick based on your needs.
5. Mounting Options
It's easier to mount portable solar panels. All it takes is unfolding them and placing them in the desired position. The majority come with a kickstand or another accessory to keep them in optimal post.
If you plant a roof installation, analyze the mounting system carefully. It needs to keep the panel secure, especially during windy seasons. Otherwise, the weather might knock over and destroy your solar system. It helps to look for provider guarantees that the panel can withstand windy and other severe conditions.
6. Do You Get a Warranty?
Durability is a tricky topic for a solar panel. It'll be outside, so it needs to withstand severe weather conditions. Panels should have top-quality components that won't break or damage easily.
A warranty is always a good sign you can trust a product. Guarantees for solar panels vary but pick the one with the maximum period and coverage. Quality brands typically offer at least a 20-year warranty for their panels. If anything goes wrong, you can rest assured the manufacturer will fix the issues.
7. Brand and Price
A solar panel acquired from a top-quality brand costs more, and for a good reason. Provider reputation is vital since it confirms their dedication to excellence and ensures they'll follow on warranty promises.
The size and efficiency also dictate the price of solar panels. You want a unit that meets your expectations but also doesn't cost a fortune.
Best Solar Panels in the Market
At this point, you should know your preferred solar panel features. That includes size, price, type, etc. If you need assistance, these are the top-rated units in the market!
The manufacturer promises an impressive 23.4% efficiency rating. It's among the highest in the industry, making this 200 watt foldable solar panel a smart investment.
It's ideal to use this unit on the go. Thanks to foldability, it doesn't take up much space. The panel measures only 23.2x24.8 inches when packed. The length increases to 89.2" when you unfold it. And the product only weighs 16 pounds, making it easy to carry.
The operating temperature is from -10C to 65C. You'll appreciate the long cable that connects the unit to the solar generator. The panel comes with ETFE lamination. Ethylene tetrafluoroethylene secures maximum resistance to severe weather conditions. 
Apart from the coating, you'll appreciate the junction box has IP65 waterproof rating. It ensures splashes and scratches can't hurt the unit, but you still need to remove it from rain. The manufacturer secures a two-year warranty.
Unlike the previous, this panel with monocrystalline solar cells is a fixed solution. It's ideal for roofs or ground installations on your property. AIMS delivers six panels in the box, and each has an impressive 330W rating. Thanks to that, you can secure a generous solar energy amount for various uses.
The aluminum frame comes with a pre-drilled setup for easier installation. Tempered glass is of excellent quality, and the manufacturer supports that with a 25-year limited guarantee.
Each panel has ten cells and can work at ranges from -40C to 85C. Even if it's harsh winter outside, your solar system can withstand the conditions. The module efficiency is around 19.78%, with the cell rating going over 21%.
Here is another solar panel camping solution. You can pick from 50W and 100 W options. The higher rating is better, especially since the price remains low.
FLASHFISH promises to charge multiple devices simultaneously. It comes with one DC and two USB outputs. The unit is compatible with the majority of market generators.
The efficiency is high, with the rating varying from 21.5% to 23.5%. But this is not an ETFE solar panel, and the junction box isn't waterproof. It's necessary to keep the unit away from rain and preserve it from accidental hits and scratches.
FLASHFISH solar panel is incredibly light since it weighs under five pounds. Its folded measurements are 20x20.5 inches, ensuring it'll fit almost anywhere.
Final Thoughts
Thanks to advanced technology, you can pick from many solar panel types and sizes. The odds are new methods will appear in the near future, so going with an overly expensive system might not be a wise move.
If you need a fixed option, a six-pack model is an intelligent choice. But a portable smart panel is great if you often go camping. It's also smart to use when touring with an RV or in the countryside. You'll find premium brands and models like Bluetti PV200 in online stores. Not only can you place an order from any location, but there could be active web savings available!