Review of the Jackery Explorer 1000 Portable Power Station in 2023
Finding the perfect generator in 2023 can be challenging. After all, there are so many different options on the market. This can be especially difficult when looking for a mid-sized generator. When buying a generator, you can choose one that needs fuel (such as gasoline, diesel, or propane) or works off thermal energy. Solar-powered generators are great. You won't need to carry around a jerry can, and they don't result in any harmful environmental emissions. 
One of our favorite solar generators is the Jackery solar generator. This generator looks and performs excellently. There are many features of this option. This article will review the Jackery Explorer 1000 Watt Generator, so you have an easier time deciding on purchasing. 
Jackery Review
Finding a generator that accommodates your energy needs is important. Whether you're an avid camper, outdoor adventurer, or just like the backup energy, the Jackery Explorer 1000 is a great option. This Jackery solar power generator is durable and reliable. This brand was founded in 2012. It is an all-American brand and only uses the best materials. 
Jackery is known as a global energy leader. This brand is an industry leader in clean energy for outdoor living. They have made considerable strides in the field of portable power. Their rave reviews are one reason they are so well-loved within the market. 
We will give you all of the information you need to know before making this purchase. 
Jackery Solar Generator 1000 
This solar generator has it all! When shopping for a generator, there is a lot to consider, such as fuel type, wattage, and how long it takes to charge. Jackery offers some of the best features for a generator. You can pair the solar generator with the Explorer 1000 SolarSaga 100W. The SolarSaga are the solar panels that block solar power. 
Features 
Now that you're familiar with Jackery and the Explorer 1000, we will share some of the features that this product offers. These features make up some of the reasons why Jackery is so well-loved. 
Solar charging is known to be one of the slowest methods of generator charging. It can be challenging for those buying generators. In comparison, generators that work off fuel (such as gasoline) can be refilled in a minute. However, solar generators take hours to charge. 
The Jackery has impressively fast charging options. However, there is more. The Jackery also allows you to charge it through the wall outlet or car outlet. This makes it efficient if you have a gloomy day. For solar energy to work correctly, you need direct sunlight. In cases where this is unavailable, take advantage of their other charging options. 
The sound of generators can be annoying. With 1000 watts, it can be assumed that the Jackery is noisy. However, it isn't. In fact, it's almost completely silent! This is a huge selling factor. You can sleep comfortably in your camper while your generator runs. 
Aside from the silence, the Jackery is also green. It requires zero emissions to run. This is huge! You can feel good about using electricity. You won't need to add to the pollution of the environment by needing to charge your phone. These small considerations by Jackery have made a big difference in generators. 
The wattage of the Jackery 1000 solar generator is great. It offers 1000 watts of running wattage, 2000 watts of surge wattage, and 1002Wh capacity. Because there is such impressive power, there are also multiple output ports. You can expect:
Two USB-C 

Two USC

One DC carport 

Three AC outlets (with the pure-sine wave) 
All of these outports will accommodate whatever you need to charge! Remember that your phone will have different plugin requirements than a microwave. Having a generator that can accommodate all of this is important. 
You can even plug in multiple devices at once. If you need to charge your phone and camera at the same time, you can! 
Finding a generator with impressive power but isn't too heavy can be difficult. Thankfully, the Jackery solar power generator has done that. Even though it is a 1000-watt generator, it is only 22 pounds. This generator is easy to carry and has an easy-grip handle. You can walk around with it or even fit it in your backpack. 
This is extremely important if you want to go backcountry camping or off-grid adventuring. Having a portable and compact generator that you can transport is essential. It also won't add too much weight to your camper or vehicle while you travel. 
How Long Does It Last?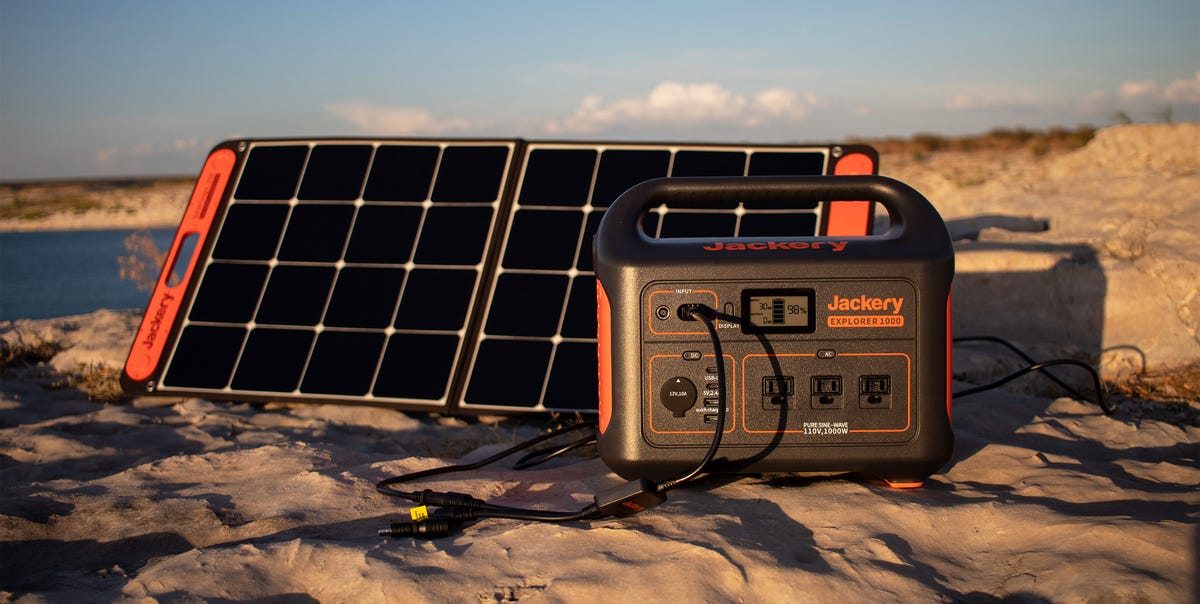 Determining how long your Jackery Explorer 1000  lasts can be tricky. In fact, it will require a bit of math. The amount of power it stores and how quickly it's used will be dependent on the devices you're charging. 
If you're looking to know the working hours of your equipment, you'll have to do the following formula:
Working time = 222Wh x 0.9 / working power of the device 
The generator is high efficiency, so it will last longer than other machines. Off of a single charge, your appliances can run:
Blender: two hours

Ice shaver: 85 minutes

Electric grill: 50 minutes

Mini fridge: 17 hours

Coffee maker: 88 minutes

Camera: 50 charges

Smartphone: 100 charges

Television: 13 hours

Light: 76 hours

Laptop: 8 charges

Pressure cooker: 50 minutes

CPAP machine: 17 hours
Those are some impressive numbers. 
Is It Easy to Charge?
Yes, the Jackery Explorer solar generator is extremely easy to charge. There are three ways to charge the lithium battery that is included with this machine. 
Solar panels are one of the most popular ways to charge the Jackery generator. Jackery also makes compatible solar panels that can be easily set up with the generator. The solar panels will absorb thermal energy from the sun and begin to charge the battery. However, this will not be as efficient if there is shade in the way or cloud cover. If the weather is not cooperating, opt for charging through a wall or car outlet. 
The Jackery generator can also be charged conveniently with a wall or car outlet. Simply plug it in and let it fully recharge. 
How Long Does It Take to Charge?
How long it takes to charge will vary depending on your charging method. 
The machine will be fully charged in eight hours if you connect the two Jackery SolarSaga 100W solar panels. This process is extremely easy. To charge with the solar panels:
Find the DC interface on the solar panels

Connect the DC interfaces on the solar panels with the Y parallel cable 

Connect the Y parallel cable to the generator 
Typically charging with a wall will be slightly quicker. Charging with a car will take about the same amount of time as solar panels. 
Is It Heavy?
No, the Jackery solar generator is extremely lightweight. At only 22 pounds, this generator is portable. You can easily transport it via car, trailer, or even by hand. This is the perfect option for traveling. 
We recommend pairing the generator with the Jackery solar panels. These are also designed to be incredibly lightweight. The solar panels are foldable and only 9.1 pounds. They can be easily carried around. They also come with a kickstand for easy setup. 
Both the solar panels and the generator are durable and temperature-resistant. 
Is the Jackery Explorer 1000 Worth It?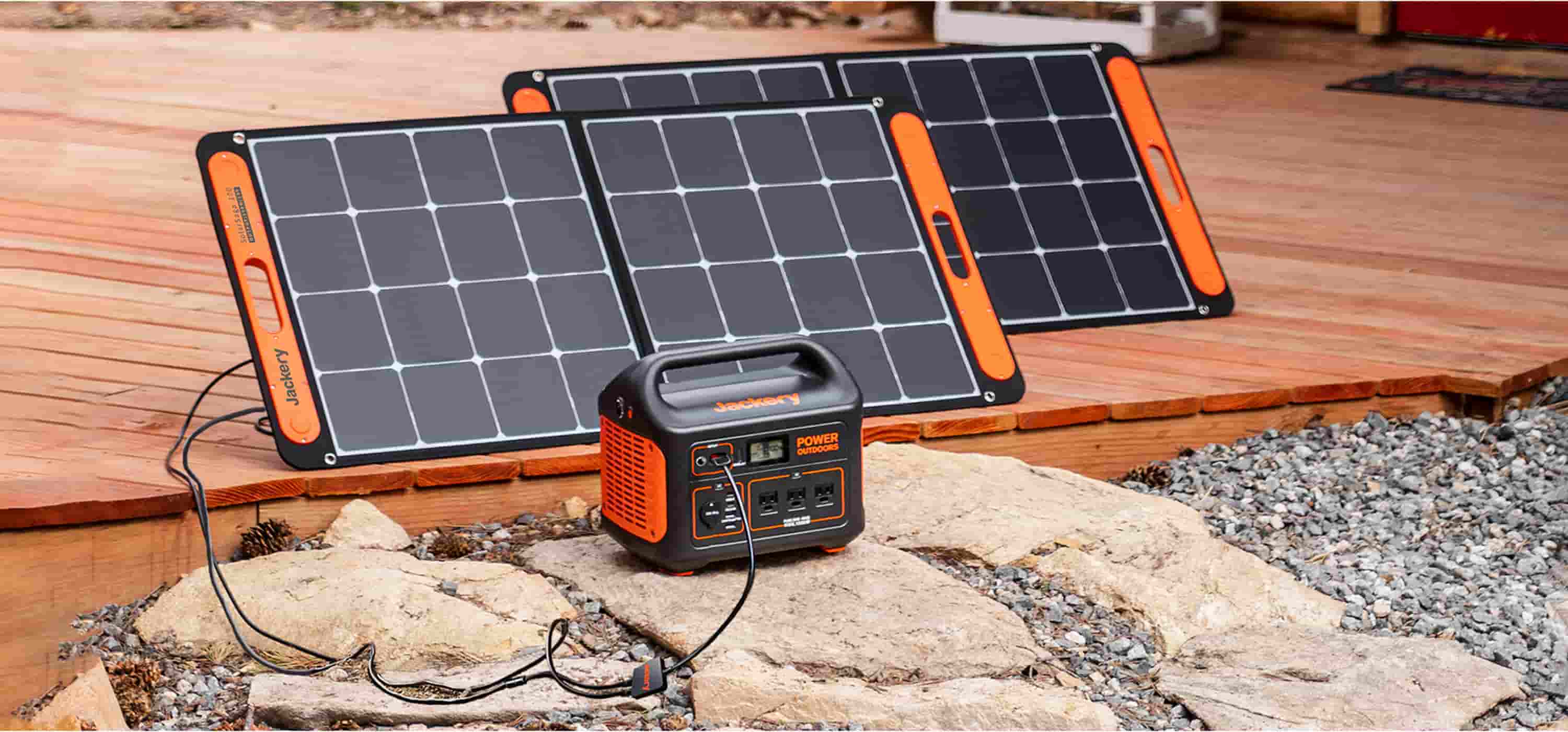 The answer is definitely! The Jackery solar generator 1000 is an excellent choice for anybody looking for a solar generator. At only 22 pounds, it is lightweight and easy to transport through your camping travels. 
We recommend purchasing the Jackery generator with the SoalrSaga 100 solar panels. These two items are compatible and extremely easy to set up. All adapters and cables will be included in the kit. This will make your life easy when you want to power up your devices on the go! 
One of the best features of the Jackery generator is the three different charging methods. You can easily charge the generator with the power from the sun in as little as eight hours. If the weather isn't cooperating, you can plug the generator into the wall or a vehicle. This is extremely convenient. Regardless of your circumstances, you can find power with Jackery. 
The amount of run time that Jackery offers on just one charge is incredible. There are several different outputs that will accommodate all of your devices, products, and appliances. This is an extremely efficient solar generator. It works off of clean energy, so you can feel confident about your purchase. The Jackery is safe, quiet, and clean. 
Another winning feature of this product is the masculine grey and orange casing. It looks great for any outdoor travel. The logo is chic and easy to read. Furthermore, the handle is easy to grasp. 
Conclusion
Investing in a generator can be tricky. However, a solar generator is a great choice. You can use good, clean energy on the go. The Jackery solar generator is one of our favorites. With 1000 watts of wattage and compatible solar panels, you'll be able to travel confidently.