Do you plan on taking an RV and heading on a trip? Perhaps you enjoy the idea of off-grid living and would like to try it out. These are just some reasons why you'd need a deep cycle battery.
Even if you are certain about getting this item, you may not know how to choose the best option. This guide discovers the basics of selecting deep-cycle batteries. It also reviews the top items currently available. Check out these options and pick your favorite!
What Are Deep Cycle Batteries?
Understanding a full battery cycle is simple. It's time the product takes to discharge completely and then restore its power to the maximum.
Deep cycle batteries will remind you of those used in cars. But apart from the aesthetics, their working process is different. They have a Depth of Discharge (DoD) of 80% and more. This measurement is inverse to the remaining battery life. So, if the State of Charge (SoC) is 20%, the DoD would be 80%.
Why Consider Deep Cycle Batteries?
Their main advantage is optimization for deep discharges. You'll find this to be the opposite of car batteries. They provide a short boost of high current to crank the engine, but it takes up little of their capacity. 
On the other hand, deep cycle batteries can regularly go up to 80% of DoD or more. It's only then that they need recharging. Most manufacturers would recommend connecting them to a power station at around 50% of DoD. It could be a trick to further extend the battery life. But don't worry if you increase DoD to 80% or 100%. The battery's duration would still go beyond your expectations.
Where to Use Deep Cycle Batteries?
That depends on the unit's type and specifics. The common use is in recreational vehicles and off-grid living setups. You'll find deep-cycle batteries in electric wheelchairs, fishing boats, etc.
Commercial and industrial applications include powering equipment at remote sites. You can use deep cycle batteries for audio and computer gear to secure an uninterrupted energy supply.
What Is the Best Deep Cycle Battery?
Lead and its alloys are the main materials used to design these products. The primary features and characteristics to consider in deep cycle batteries are:
Weight and size

. Additional pounds increase the heaviness of the vehicle or product where you use the battery.

Voltage rating

. You need higher options for bigger loads.

Temperature options.

If you plan for the battery to be outside, this is important.

Charging methods and times

. An adapter usually comes with the product. The general rule is bigger batteries take more time to charge.

Warranty

. It's a guarantee the product will be up to the standards.
The market offers an excellent selection of deep-cycle batteries. Here are the top options!
AIMS is a popular brand, and its AGM battery is suitable for multiple purposes. It's an excellent choice for stored and backup power options, golf carts, etc. 
The manufacturer added thickness to lead plates to ensure a deep discharge won't damage the battery. Thanks to that, this heavy-duty unit delivers about 20% more full cycles than the competition.
AIMS AGM 6 Volt rechargeable battery has overcharging protection. The integrated valves release gases if there's an overcharge in making oxygen and hydrogen. The manufacturer sealed the battery to stop leaks and minimize maintenance.
You can pick the orientation to mount the unit. It's easy to carry around with the removable handle. The self-discharge battery comes with three cells. The operating heat range is from -20C to 60C, ensuring optimal functioning in outdoor conditions. However, you'll need to secure a temperature higher than -10C for charging.
The battery weighs 71 pounds. Its dimensions are 13x8x7 inches, ensuring you can mount it in compact areas. The manufacturer provides a 5-year warranty against defects. If you use and maintain it properly, the battery can serve over a decade.
This rechargeable battery belongs to the same series as the previous one. Its characteristics are different since this unit's nominal voltage is 12V. It also has a lower 20-hour rate of 100Ah. While that's over two times less than the 6V model reviewed, it remains versatile and suitable for many applications.
Other features are similar, and you can expect the option to mount in any orientation. The manufacturer used a lead calcium tin alloy grid. Unlike the AGM6V, this model has six cells. The battery's operating temperature remains from -20C to 60C. Thanks to thick lead plates, the unit restricts fluid expansion in freezing conditions.
This lithium deep cycle battery is among the premium market options. It's three to four times more expensive than the affordable units at an entry price range. In return, it delivers impressive quality and performance.
ACOPOWER is famous for its BMS – battery management system. It handles the discharging process and ensures the product works flawlessly. The battery will work in conditions from -20C to 60C. However, you can't charge it at below-zero temperatures. The battery has an IP65 waterproof rating. It ensures rain or severe weather conditions don't compromise its performance.
The manufacturer promises a continuous discharge at 200A. You can expect up to 4,000 cycles from this battery, confirming its great durability. ACOPOWER uses top-quality LiFePO4 cells to secure optimal performance. Thanks to that, you'll get about eight times more cycles than from a lead-acid battery.
ACOPOWER ensured the unit weight was under 50 pounds. Combined with the small size, it allows putting the battery anywhere. The time to recharge the unit completely is five hours. You can use it in backup or stored energy systems, speakers, electric vehicles, fish boats, etc.
AIMS also has premium lithium deep cycle batteries in its portfolio. This unit is a top-quality option with a 10-year warranty. With optimal maintenance, this backup power battery should last over a decade.
You can pick between multiple models, ranging from 50Ah to 200Ah. Regardless of the unit, the primary material will be LiFePo4. Lithium iron phosphate is the top choice to maximize the battery's durability. It's worth noting the manufacturer states the product can endure over 4,000 cycles. Keeping the battery at up to 80%, DoD might extend its lifespan.
The product has short circuits and polarity reverse protection. Its safety features also include preventing over-discharge and limiting cell failure. If one of the six fails, the BMS system will stop it. That way, it prevents the cell from damaging the entire battery.
AIMS Lithium Battery 12 Volt 200Ah weighs 64 pounds. It has an IP66 waterproof rating and offers Bluetooth monitoring. That's convenient since you'll always know the current DoD, minimizing the risk if you don't connect the battery to the charger on time.
5. Weize 12V 100AH Battery
The manufacturer designed this sealed lead acid battery. The nominal voltage is 12V. You can store the unit without charging it for up to six months. But to optimize its lifespan, you should power it every 60-90 days.
Low battery self-discharge is about 3.3% monthly or 40% annually. It indicates the unit's lifespan could be at least several years, ensuring a good deal for the price.
Weize 12V 100Ah Battery weighs 60 pounds. Its dimensions are 12.99x6.73x8343 inches. Thanks to the sealed system, there's no danger of leaks. Also, you don't have to invest any maintenance effort apart from charging the battery regularly.
The unit is affordable and suitable for various devices. From UPS systems to emergency lighting and indoor devices, you'll appreciate the battery power option. It's possible to attach up to four items in a series. Parallel connections come without limits if you need multiple batteries.
6. VMAX857 AGM Battery 12 Volt 35AH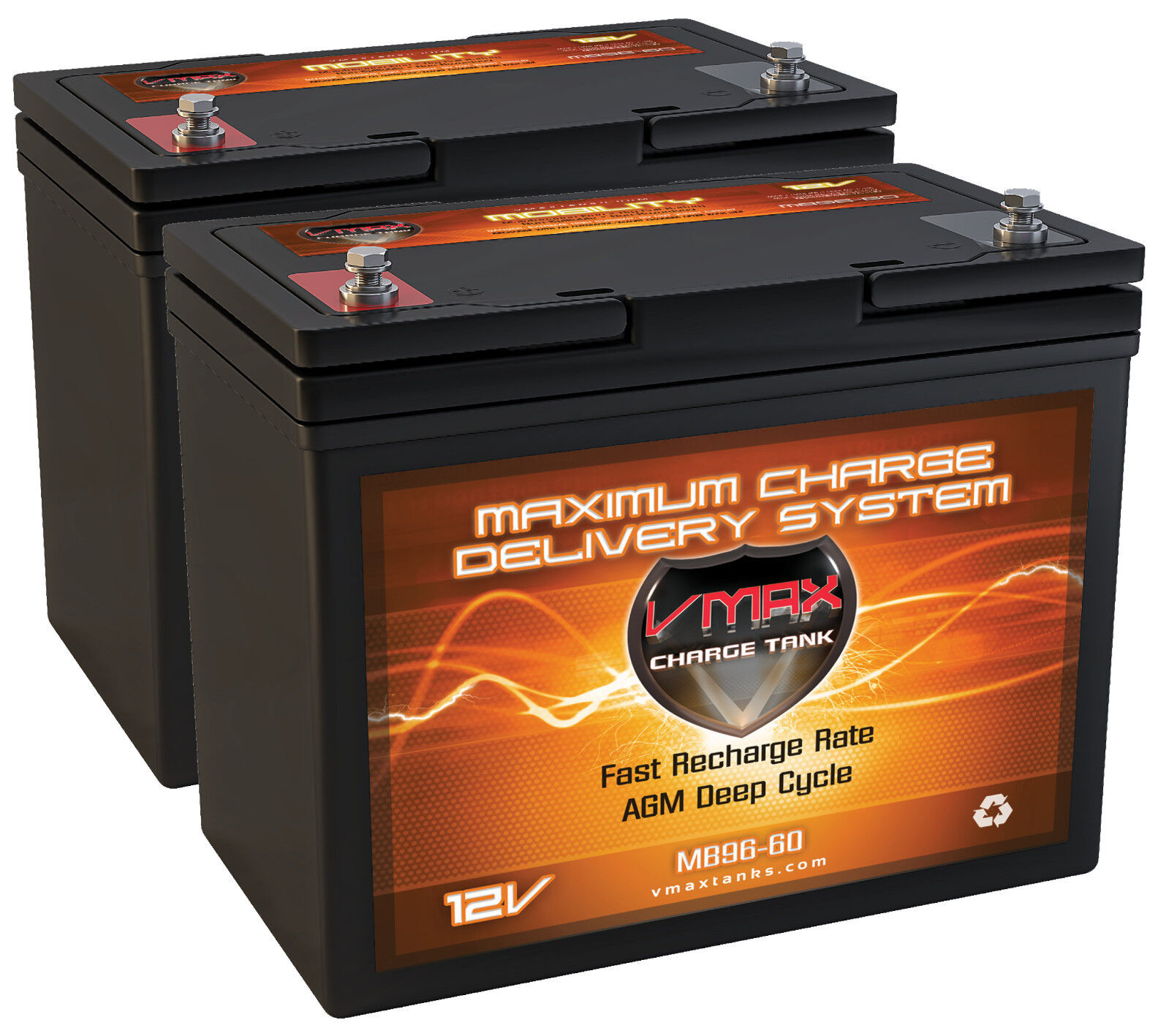 VMAX designed a truly compact unit. The dimensions are 7.7x5x6.1 inches, ensuring you can put this unit anywhere. Even the weight is surprisingly light, at only 25 pounds. It's easy to carry the battery around, making it suitable for marine and other outdoor applications.
The manufacturer used a strong lead-tin alloy as the primary material. The compact weight and size also affect performance. Although the nominal voltage is 12V, the Ampere per hour rating is 35Ah. 
VMAX mentions you can expect at least 300 cycles with a maximum DoD. But if you lower it to 50%, you'll get up to 900 recharges. You can use solar power to charge the unit, but also smart chargers, RV converters, and vehicle alternators. If you only need a compact deep cycle battery, this unit is a great choice.
Final Thoughts on Deep Cycle Batteries
A deep-cycle battery doesn't have to be expensive. The basic lead-acid options are affordable. If you choose premium brands, such as the AIMS AGM 6 Volt Battery, you'll still receive excellent value for money.
Lithium batteries are pricier but more durable. The power depends on your application's needs. You'll find a generous battery selection in online stores. You might even come across discounts, so feel free to explore and order the desired product today!